Sizechart > Informations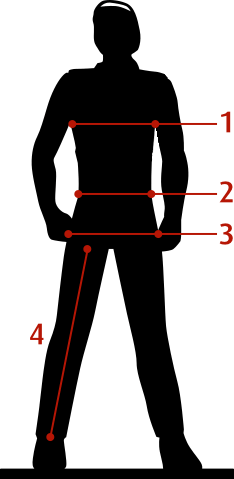 1. Chest
Measure around your chest.
measure around your chest at the widest point, making sure to keep the tape measure properly horizontal
2. Waist
Around your waist.
measure around your natural waist
3. Hips
Around your hips.
measure around the widest point
4. Pants length
Length is measured at the outside seam (side seam).
Measure standing from the waist down to the desired length
If you are not sure what, clothing size fits your body measurements, you should do the measuring! With the help of the tables, you can measure your desired items in order to select the right size and.
FOR TAKING MEASUREMENTS:
Measure always close to the body, because the dimensions in the table are pure "body size". Let us help you measure by a second person, then it is more accurate.
The range of motion is already included in the garment, but varies depending on quality, fashion and fit of the article. Your measurements lie between two sizes, just order the larger.
SWEATERS & SHIRTS:
Measure your chest over the fullest part of chest, horizontally around the body.
SHIRTS:
Measure your neck size below the larynx loosely around the neck. The order size for shirts corresponds to your neck size in inches. Example: 42cm >> Size L
Size
Chest circumference in cm
1/2 chest circumference in cm - measured 1cm below armhole
Shirt - neck circumference in cm (D, CH,A)
Regular Sizes
Big Sizes
S
S/M
M
M/L
L
L/XL
XL
XL/XXL
XXL
3XL
4XL
5XL
6XL
90-93
94-97
98-101
102-105
106-109
110-113
114-117
118-120
121-126
127-132
146
154
162
46,5
48,5
50,5
52,5
54,5
56,5
58,5
60
63
66
73
77
81
37
38
39
40
41
42
43
44
45/46
47/48
49/50
51/52
53/54
Basic Polo
1/2 chest in cm
Garment length - measured from high point shoulder
Sleeve length - measured from centre back
Regular Sizes
Big Sizes
S
M
L
XL
XXL
3XL
4XL
5XL
6XL
52
55
58
61
64
70
74
78
82
69
71
73
75
78
81
83
85
87
42,5
44,5
46,5
49
51,5
54,5
57,5
59,5
61,5
Softknit Poloshirts
1/2 chest in cm
Garment length - measured from high point shoulder
Short sleeve length - measured from centre back
Long sleeve length - measured from centre back
Regular Sizes
Big Sizes
S
M
L
XL
XXL
3XL
4XL
5XL
6XL
52
55
58
61
64
68
72
76
80
70
72
74
75,5
77,5
82
84,5
87
89,5
44
46
48
50,5
52,5
55
58
60
62
84,5
86
88
90,5
92
94
96,5
99
101,5
Performance Pique Poloshirts
1/2 chest in cm
Garment length - measured from high point shoulder
Sleeve length - measured from centre back
Regular Sizes
Big Sizes
S
M
L
XL
XXL
3XL
4XL
5XL
6XL
51
54
57
60
63
69
74
78
82
69
71
73
75
78
81
83
85
87
41,5
43,5
45,5
48
50,5
53,5
57,5
59,5
61,5
T-Shirts - Basic
1/2 chest in cm
Garment length - measured from high point shoulder
Sleeve length - measured from centre back
Regular Sizes
Big Sizes
S
M
L
XL
XXL
3XL
4XL
5XL
6XL
50
53
56
59
62
68
72
76
80
68,5
70,5
72,5
74,5
77,5
80,5
83
85
87
42
44
46
48,5
51
54
57
59
61
T-Shirt - 40181
1/2 chest in cm
Garment length - measured from high point shoulder
Sleeve length - measured from centre back
Regular Sizes
Big Sizes
S
M
L
XL
XXL
3XL
4XL
5XL
6XL
49
52
55
58
61
65
69
73
77
72
74
76
78
80
82
84
86
88
43
45
47
49
51
53
55
57
59
T-Shirt - 403080
1/2 chest in cm
Garment length - measured from high point shoulder
Sleeve length - measured from centre back
Regular Sizes
Big Sizes
S
M
L
XL
XXL
3XL
4XL
5XL
6XL
49
52
55
58
61
67
72
76
80
69
71
73
75
78
81
83
85
87
40,5
42,5
44,5
46,5
49
52
55
58
61
Sweaters
1/2 chest in cm
Garment length - measured from high point shoulder
Sleeve length - measured from centre back
Regular Sizes
Big Sizes
S
M
L
XL
XXL
3XL
4XL
5XL
6XL
54
57
60
63
66
72
76
80
84
67
69
71
73
75
80
82,5
85
87,5
85
87
89
91
93
95
97
99
101
Shirts
1/2 chest in cm
Garment length - measured centre back neck seam
Short sleeve length - measured from centre back
Long sleeve length - measured from centre back
Regular Sizes
Big Sizes
S
M
L
XL
XXL
3XL
4XL
5XL
6XL
55
58
61
65
69
73
77
82
87
76
77
78
80
82
84
84
84
84
48
49,25
50,5
51,75
53
54
56,25
57,5
58,75
88
89,25
91,5
92,75
94,75
96
97,25
98,5
99,5
Shirts
Waist - measured around the narrowest part
Hip - measured around the fullest part of the hip
Pants length - measured on the side from waist downwards
Regular Sizes
Big Sizes
S
M
L
XL
XXL
3XL
4XL
5XL
6XL
79-85
86-92
93-100
101-108
109-116
117-129
130-135
136-141
142-147
90-96
97-103
104-111
112-119
120-127
128-133
134-139
140-145
146-151
103
104
105
106
107
107
Tall sizes
Garment length - measured from high point shoulder
T-Shirts - short sleeve measured from centre back
Poloshirts - short sleeve measured from centre back
Long sleeved garments - sleeves measured from the shoulder
Pants length - measured on the side from waist downwards
Regular Sizes
Big Sizes
LT
XLT
2XT
3XT
+7cm
+7cm
+7cm
+7cm
50
52,5
55
58
49,5
51,5
55
57
75cm
75,5
76
76
114
115
116
116